We believe in women supporting women and creating a better experience for both our riders and drivers. That's why RIDE offers Pink Ride, a way for female riders to request female-only drivers.
Over the years, Uber and Lyft have both included numerous incidents in their own safety reports. With thousands of assaults reported on these rideshare apps every year, we wanted to create a space that prioritized women's safety.
If you have a flight you need to catch and have to leave at 5:00 a.m. before it's light out, or if you've been out with your friends all night in Atlanta and it's time to go home, you shouldn't have to worry about safety, but you do. It's always a consideration. RIDE is here to offer a new way to get where you want to go.
How Pink Ride Works
Pink Ride offers rides for women. This feature can be used for both scheduled pickups and real-time ride requests. Many women on other rideshare apps end up continuously canceling their rides until they get a female driver. With RIDE, you won't have to. Simply select the Pink Ride option while scheduling your ride.
Convenient Pickups
Our app offers convenient pickups in minutes. Once you allow location sharing through your settings, our technology will detect your location and you will be given an estimated pickup time. You may also request a pickup location manually by typing in the address. We service Atlanta and the surrounding metro Atlanta area.
Safe Contacts
At RIDE, we take privacy and rideshare safety for our riders and drivers seriously. We do not share your actual phone number or contact information with other users.
Upon receiving a ride request, the driver will receive:
Pickup location
Rider name
Profile photo
Rating
Rider statistics (like approximate number of rides)
Rider profile information (like preferred pronouns)
Upon pickup and during the ride, we share with the driver the rider's destination and any additional stops the rider added. Once the ride is finished, we also eventually anonymously share the rider's rating and feedback with the driver.
The rider will receive this information about their driver once the ride is accepted:
Driver name
Profile photo
Preferred pronouns
Rating
Real-time location
Vehicle make, model, color and license plate
Driver profile information (like their country flag and why they drive)
Driver statistics (like approximate number of rides)
24/7 In-App Support
RIDE support is available 24/7 in-app. It's our commitment to provide the best experience possible to our users, including supporting you when you need it. Riders and drivers can contact us before, during or after a scheduled ride.
You can also review driver ratings. Riders and drivers rate each other from 1 to 5 stars after every completed ride. Along with selecting your female driver, reviewing ratings is a great way to add another level of security to your ride.
Easy Scheduling
To schedule your Pink Ride, check the box labeled "Pink Ride" on the Confirm Booking page on your phone. This is also where you can double check and verify both your pickup and drop off location.
Before pickup, we provide your driver's information and their vehicle, so you can verify your driver before getting in the car. You can also track their location, both before and during your ride. And all of our drivers go through a background check before starting with RIDE.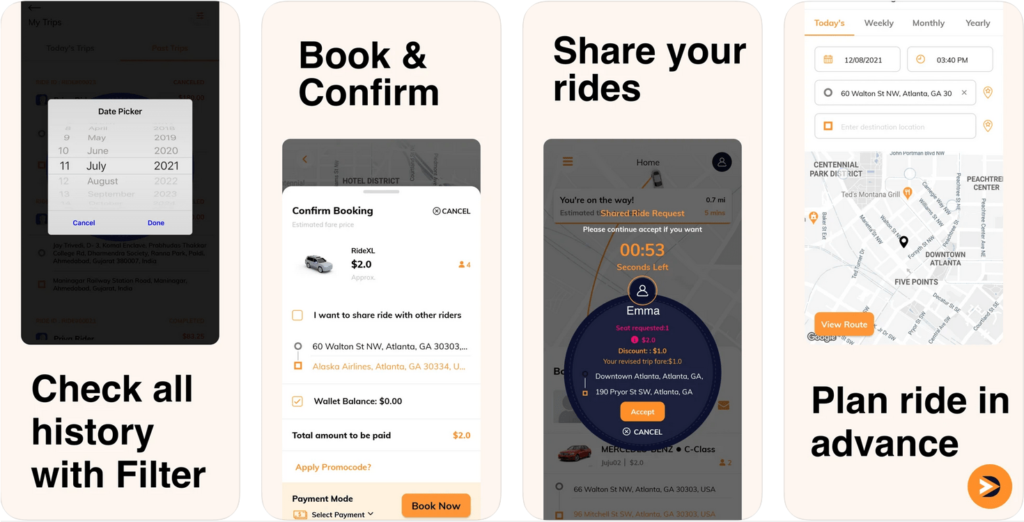 Download RIDE Today
Ride anytime, anywhere, and feel comfortable doing it. If you have any questions or concerns, we're here to help with our 24/7 rider support. Our app is available on Android and Apple devices with local female drivers ready to take you where you need to go in Atlanta.