There are so many articles and YouTube videos out there with tips and tricks on how drivers can earn more money. Google it and you'll find millions of results, but what if it's as simple as using an app that actually gives drivers all of their money?
Drivers for RIDE can make up to 80% more than what they're making on other rideshare apps. Let's talk about how that works.
Only Pay a Low, Fixed Fee and Keep the Rest
Drivers for RIDE only pay a low, flat booking fee per ride. So you know what to expect and it always stays the same, no matter the ride. This fee is used to power the app, and then you keep the rest. Unlike other apps like Lyft and Uber, the ride fare and any tips are yours.
What does this mean? You make more—every time. We're not taking a percentage of each ride to line our own pockets. RIDE is a rideshare app, not revenue share. And unlike other rideshare apps, we don't add more and more additional fees to your earnings to cut even more out of what you've made. Instead, we've created an app that helps drivers take ownership of how and when they make money by giving them more control.
Fee per Ride
While total fare may change, the fee per ride remains fixed. As you can see below, it differs slightly depending on the ride chosen, but the low rate for each type of ride stays the same.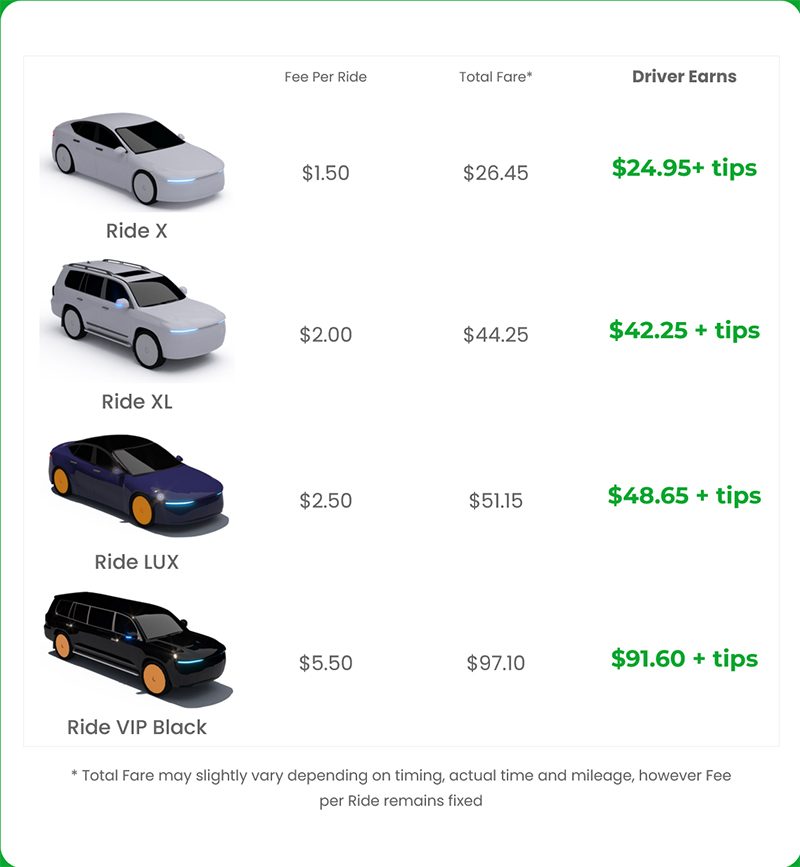 Keep All Your Tips
We make it easy for riders to tip you in the app once a ride is completed. RIDE simplifies the process so you get paid directly from riders to your connected bank account. Again, tips are all yours. We don't take a cut or percentage of this either.
Unlike other apps, we also don't limit the amount of tips drivers can make. While Lyft stipulates that in-app tips cannot exceed $50, we don't cap what riders can tip drivers. Uber similarly places a tip limit of 200% of the total ride. With us, what you make is what you make and there aren't limits on that.
Make Even More with Referrals
Our referral program allows you to refer other drivers and earn up to a $100 credit on your balance to use toward fees. This money goes directly toward your booking fees, which means you can complete close to 100 rides without having to pay anything at all, including a flat rate. All you have to do is tell your friends and family about RIDE and start driving. We also make the sign up process easy, with quick turnarounds on background checks, so you can start making more money as soon as possible.
Drive When It Works For You
You can drive anytime, anywhere. That means there are plenty of opportunities to pick up riders in Atlanta. Drivers can also set a schedule and plan rides up to a year in advance. You can have designated pickups already planned, and then find more ride requests on your way home, along your path of travel, and near your destination. This way you can set yourself up to make even more money driving by filling your schedule while also leaving room for new rides.
Here are some more tips for making the most of your time and maximizing your profit with RIDE:
Drive when ride demand increases, typically during peak hours and busier times of the day.
Plan for big events in Atlanta and be around that area when people are looking for rides.
Be a good driver and your tips will reflect that.
Use a good GPS and try to avoid traffic as much as you can.
Gas is expensive right now, so having a car with good gas mileage or using a gas rewards app can help save money.
Take advantage of RIDE promotions and referral offers.
Stay focused on Atlanta—you'll spend less on gas in the city and it's easier to find another rider nearby after drop-off.
And that's it! RIDE offers 24/7 driver support, so if you have a question or need help figuring out how you can make even more money driving for RIDE, just ask in our app. Available on Android and Apple devices.